Tempo di Lettura:
2
minuti
Would you like to delight your palate with an explosion of summer flavours? Here's a recipe which will make you daydream: Bruschetta with fresh fruit, and Prosciutto di San Daniele.
This dish is a perfect balance between freshness and sweetness and will take you on an unforgettable culinary getaway.
Imagine the juicy and sweet taste of ripe peach. Add the explosive sweetness of fresh blueberries, the buttery flavour of mozzarella and the unparalleled subtlety of Prosciutto di San Daniele. Each ingredient is specially chosen to combine flavours to harmonise to perfection.
Bruschetta is an Italian tradition which is reinvented in this surprising version. Peaches, with their natural sweetness, provides a fruity and juicy touch. The blueberries, though, trigger an explosion of freshness and a touch of tartness which gives balance to the other ingredients.
Mozzarella, with its creamy texture and delicate taste, blends with the rest of the ingredients, composing a symphony of flavours on your palate. And what can one say about Prosciutto di San Daniele? It rounds off this delicacy with its smoothness and unmistakable aroma.
Whether you are organising a summer picnic, and informal meal with friends or simply want to enjoy a gastronomic delight yourself, this bruschetta would be the ideal choice. It is simple to prepare and will astonish everyone by its combination of unique flavours.
Don't wait any longer, be seduced by this extraordinary recipe. Find out how these ingredients unite in creating unrivalled gastronomic harmony. Bruschetta with peaches, blueberries, mozzarella, and Prosciutto di San Daniele are just waiting to provide you with an unforgettable culinary experience. Get ready to taste the best of summer in a single mouthful!
Recipe for grilled bread with fresh fruit, and Prosciutto di San Daniele:
Grilled bread with fresh fruit, and Prosciutto di San Daniele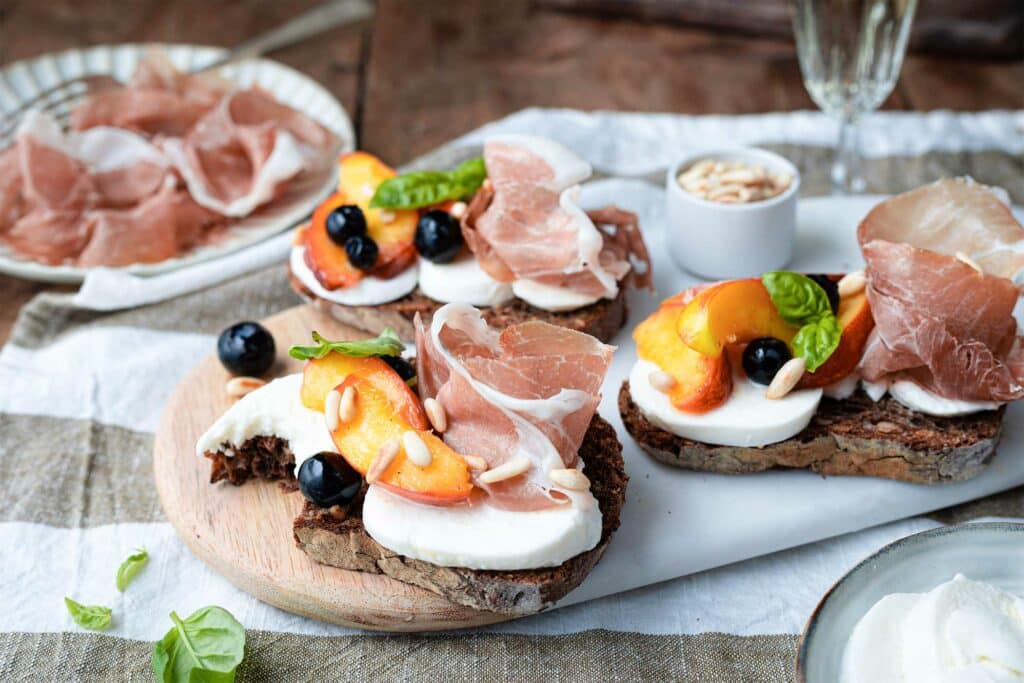 Ingredients
8

slices

of Prosciutto San Daniele

8

slices

of mixed seed bread

400

g

of mozzarella fior di latte

fresh milk mozzarella

3

peaches

60

g

blueberries

10-12

basil leaves

Oil

Salt

Pepper
Instructions
Cut bread in slices of about 2 cm and toast them on a very hot grill.

Wash and dry the peaches, cut them into segments leaving on the skin and place them in a bowl.

Add the blueberries and season with a drizzle of oil, salt, pepper, and a few basil leaves torn by hand.

Cut the mozzarella into not too thick slices.

Place the bruschetta together arranging on the toast the mozzarella, a slice of Prosciutto San Daniele and the seasoned fruit.

Garnish each bruschetta with a basil leaf and serve.