Tempo di Lettura:
< 1
minuto
Eating vegetables is good for you, and if you add Prosciutto di San Daniele they become even more delicious!
With this recipe you can prepare a tasty, simple and healhty dish!
Vegetable and San Daniele Terrine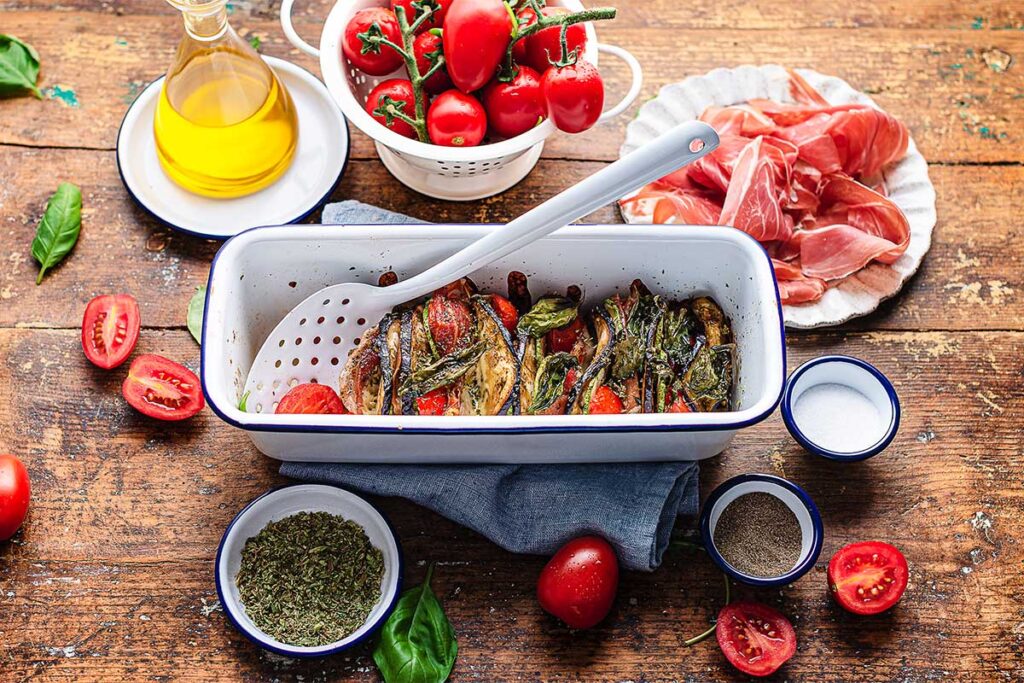 Ingredients
1

aubergine

1

courgette

15

Piccadilly tomatoes

Smoked scamorza

as needed

Prosciutto di San Daniele

thinly sliced, as needed

Fresh basil leaves

as needed

Dried oregano

as needed

Extra virgin olive oil

as needed

Salt and pepper

as needed
Instructions
To prepare the vegetable and prosciutto terrine start by washing and cleaning all the vegetanles.

Cut them in half a centimeter slices, salt them lightly and set aside.

Cut the tomatoes in half and salt them lightly. (Don't forget that scamorza and prosciutto are already salty so be careful with the amount of salt!)

Oil a plumcake mold very well (or line it with baking paper, if you prefer) and start layering the terrine. Start with slices of aubergine, then courgette and tomatoes.

Make a layer of scamorza and one of prosciutto and continue with this sequence of ingredients until you have filled the mold.

Put some basil leaves and oregano between the layers, a little olive oil and pepper on top.

Cook the terrine in a convection or fan oven at 180°C for at least 30 minutes.

Wait until the terrine is warm, then invert it onto a plate, slice it and serve.