Tempo di Lettura:
2
minuti
Today we suggest a very tasty sandwich, rich in contrasts and extremely easy to make, everyone will love it. The subtlety of the veal meets the unmistakable taste of Prosciutto di San Daniele, grilled until crispy. The summer taste of aubergines and the fresh taste of the salad add to the creamy and slightly smoked hint of provola cheese, all of this in the soft embrace of a classic sesame burger bun.
To make this gourmet burger, you can use a pan to grill the meat, the aubergines and the bread, or you can use an outodoor barbecue and enjoy the nice season .
Veal burger with crispy Prosciutto di San Daniele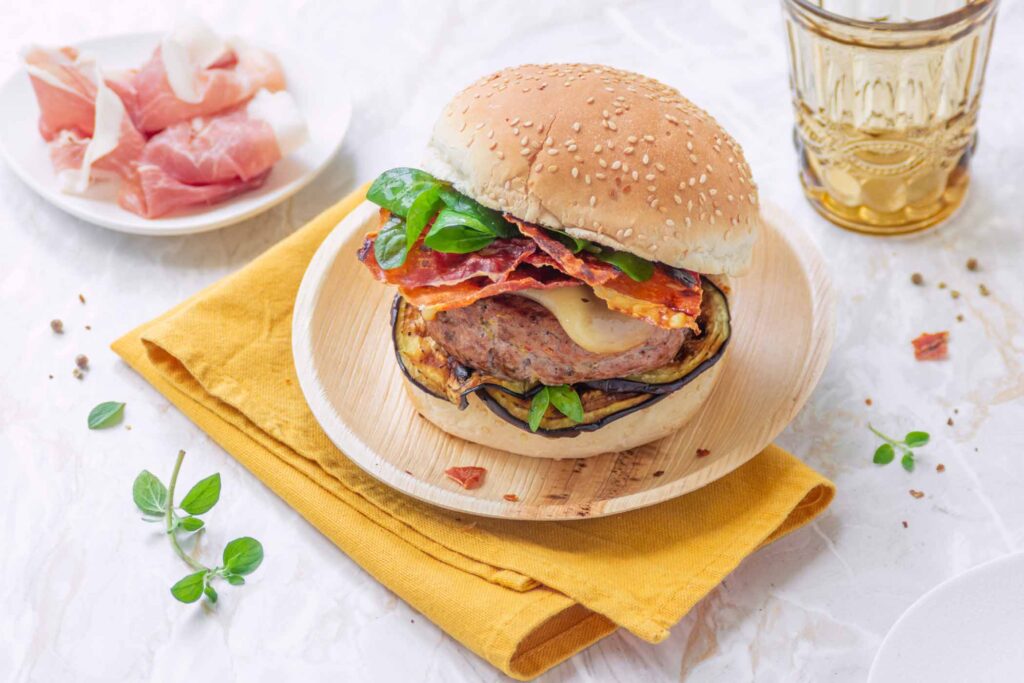 Ingredients
2

burger buns

300

g

minced veal

4

thin slices of prosciutto di San Daniele

1

medium-small aubergine

4

slices

of smoked provola cheese

1

garlic clove

2

tablespoons

of olive oil

mixed small greens as required

a bunch of herbs. Choose according to your taste

salt and pepper as required
Instructions
First of all heat a nonstick pan. Cut the aubergine in 1/2 centimeter thick slices and grill them for a few minutes on both sides.

Layer the grilled aubergine slices on a platter, drizzle on them the olive oil seasoned with the crushed garic clove and some finely chopped herbs. Add some salt and pepper and set aside.

In the same pan you used for the aubergines grill the Prosciutto di San Daniele until it's crispy and dry.

In the mean time make two burgers with the veal minced meat using a pastry ring, giving them the same size of the buns. Press well with your hands or a tablespoon to get two firm patties.

Grill the burgers in the hot pan on one side.

Flip them on the other side after a few minutes and put a provola cheese slice on each. Grill the buns at the same time in the pan. Cook the burgers well.

Build your burger: start with a base of grilled aubergines on the bottom half of the bun, then add the veal burger with its melted cheese, the crispy prosciutto di San Daniele and some salad which you have seasoned with the leftover oil of the aubergines, top it with the other piece of the bun and serve.