Tempo di Lettura:
2
minuti
Soft, tasty and delicious: discover the recipe of spinach and Prosciutto di San Daniele bread dumplings, an idea to serve on Christmas day!
Spinach and Prosciutto bread dumplings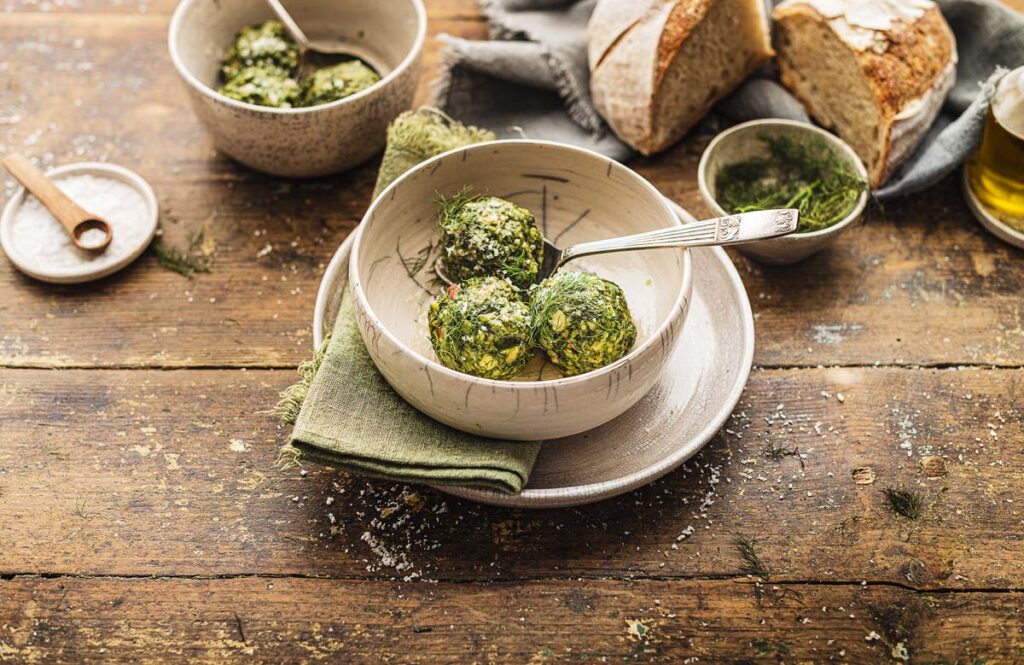 Ingredients
2

tablespoons

of all-purpose flour

1

big white onion

200

gr

boiled spinach

1

egg

About 60 gr of milk

Salt and black pepper as needed

150

gr

stale white bread

cut in small cubes

100

gr

Prosciutto di San Daniele cut in one thick slice

100

gr

di butter

Grated Parmigiano Reggiano as needed

A small handful of fresh wild fennel
Instructions
To prepare the spinach and prosciutto dumplings cut the prosciutto slice in small cubes and chop the boiled spinach.

Chop the onion finely and braise it in a pan with 50 g of butter.

Put in a bowl the cubed stale bread, the cubed prosciutto, the flour, the braised onion, the boiled spinach, the chopped wild fennel, a pinch of salt and pepper.

Add the milk and the egg and combine the ingredients until you get a firm dough. If it's too soft add little more flour, if it's too dry add a little more milk.

Shape the dough into small balls of about 3 or 4 centimeters in diameter.

Boil the dumplings in a big pot of boiling salted water and let them cook for ten minutes.

Then take them out with a slotted spoon and put them in a heated serving dish.

Put the rest of the butter in a small pot and heat it gently until it's light brown.

Serve the spinach and prosciutto dumplings with the melted butter, grated Parmigiano Reggiano and a little more chopped wild fennel, if you like it.