Tempo di Lettura:
3
minuti
Delicious morsels of artichoke fried in a rye flour batter, layered in the white and soft embrace of bread and soft cheese.
What gives this gourmet sandwich the extra kick? A few slices of San Daniele, to add the right saltiness and to turn it into a complete meal, perfect for a three-star lunch break.
Gourmet sandwich with fried artichokes and Prosciutto di San Daniele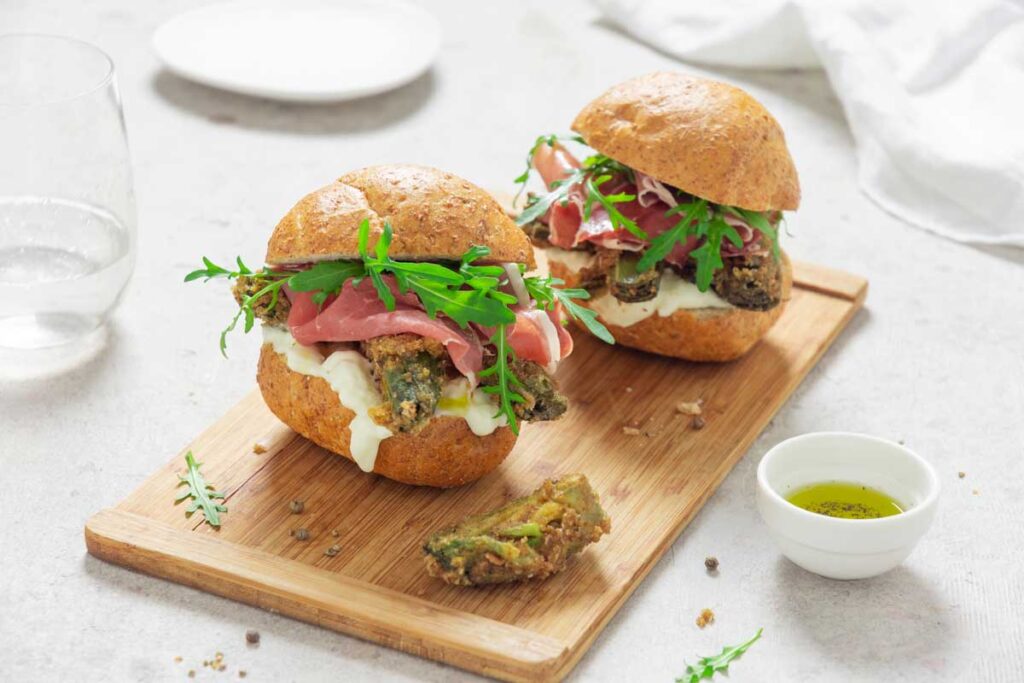 Ingredients
6

slices

of prosciutto di San Daniele

2

artichoke hearts

2

sandwich buns

80

g

of stracchino or soft cheese

seed oil for frying as required

1

organic lemon

2

tablespoon

extra virgin olive oil

breadcrumbs as required

rye flour

or whole wheat as required

2

handfuls of fresh rocket salad

salt and black pepper as required
Instructions
First of all clean the artichokes, cutting off the stalk and the outer, tougher leaves, until you reach the leaves at the base that are tenderer and lighter in colour. Cut off about two centimeters from the the leaves left on. Place the cleaned artichokes in a bowl of cold water with a little lemon juice to prevent them from browning.

Blanch the whole artichokes in boiling water for 10 minutes. (if you bought already trimmed and boiled artichoke hearts, start from here)

In the meantime make the citronette. Wash the lemon and peel off the zest (make sure your lemon is organic and that its peel is edible), cut it in thin strips. Mix the lemon juice with the olive oil in a small bowl, then add the lemon zest and a pinch of salt and black pepper to taste.

Drain the artichokes from the water, cut them into quarters and remove the "beard" inside. Beat the egg in a small bowl. Mix a few tablespoons of rye flour with the same amount of breadcrumbs in a shallow dish, add a little salt and pepper. Dip the quartered artichokes in the beaten egg, then dredge them in the flour mixture.

Heat a good amount of oil in a small pot and fry the artichokes in the hot oil, for about 6 or 7 minutes. Remove with a slotted spoon and place them on a paper towel lined plate, patting them dry with more paper to remove excess fat.

Cut the sandwich rolls in half, spread the bases with the soft cheese, then palce half of the fried artichokes on each sandwich and sprinkle with citronette. Layer two or three slices of prosciutto di San Daniele and top with the rocket salad, sprinkling a little more citronnette, close the sandwiches with the top half of the rolls.
Notes
You can make a tasty version with a big globe aritchoke (aka romanesco) which is tenderer in all its parts. In which case just discard a few outer leaves and trim the stalks. Holding it by the stalk, just tap it gently on your working surface to open it up, stretching it a little with your hands, then you can fry it whole and without batter in plenty of seed oil, holding it down with pincers. (7 minutes + 3 more upside down)