Tempo di Lettura:
2
minuti
Have you ever heard of popovers?
These particular sandwiches, particularly appreciated in the United States, have a rather ancient history. In fact, it seems that they date back to the 17th century, so much so that they can be found in Practical Cooking, a cookbook written by M. F. Henderson.
Today, we offer you this recipe in a savoury key, with a delicious topping of salted sage butter and San Daniele ham.
Popovers recipe with Prosciutto di San Daniele and salted sage butter:
Popovers with San Daniele ham and salted sage butter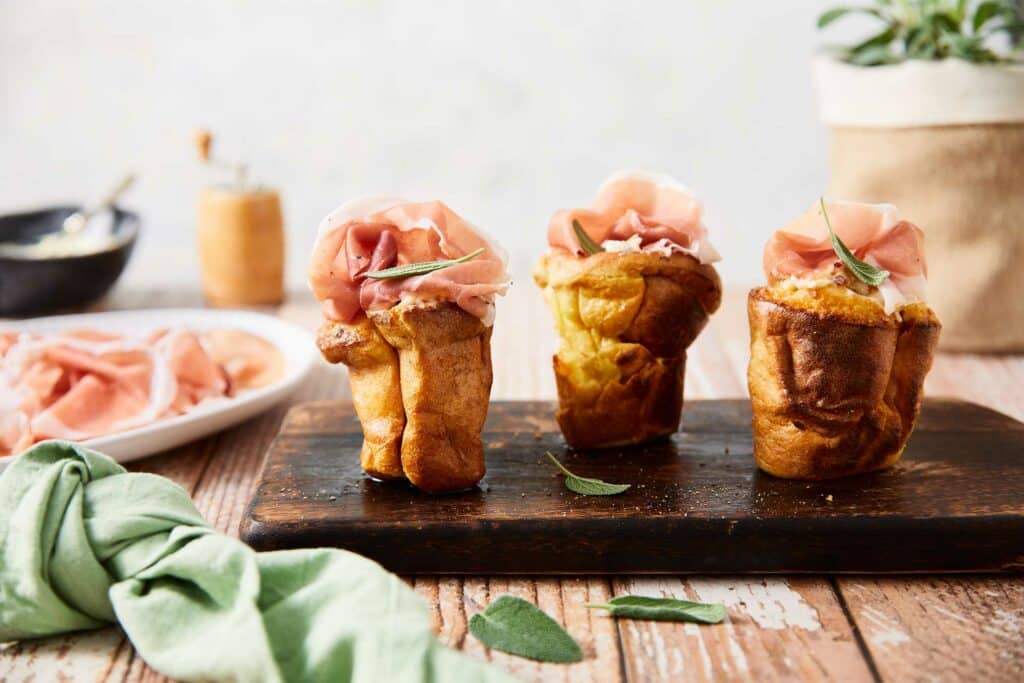 Ingredients
Popovers recipe with Prosciutto di San Daniele and salted sage butter:

150

g

salted butter

360

g

milk

160

g

00 flour

3

eggs

30

g

grated Parmesan cheese

1

clove

of garlic

5

g

instant yeast for savoury pies

Salt and pepper to taste

Sage to taste

Sufficient quantity of butter to grease the moulds
Instructions
Preheat the oven to 220°C.

Melt 30 g of butter in a small pan.

Fry the garlic and sage until the butter takes on a nutty colour.

In a bowl, beat the milk and eggs vigorously until frothy.

Add the browned butter, flour, Parmesan, baking powder, salt and pepper. Mix all the ingredients thoroughly.

Grease the walls of the moulds with a splash of release agent or with a knob of butter. Divide the batter evenly among the popover ramekins, filling them about 3/4 full.

Transfer to the oven and cook for 20 minutes.

Lower the oven temperature to 180°C and bake another 20 minutes, until the popover is puffy, golden brown and crispy.

In the meantime, soften the remaining butter with a spoon and add a handful of minced sage leaves.

Remove the popovers from the oven, remove them from the moulds and let them cool.

Serve them with a knob of salted sage butter and a slice of San Daniele ham.