Tempo di Lettura:
3
minuti
Mushroom risotto is a true hymn to autumn. We want to celebrate it with a really delicious addition, some crispy prosciutto di San Daniele chips, grilled and irresistible.
It goes perfectly with the creamy texture of risotto and the sophisticated taste of black garlic, a kind of garlic obtained by fermentation of the bulbs, rich in antioxidants, phosphorus, proteins and calcium.
Mushroom risotto with Prosciutto di San Daniele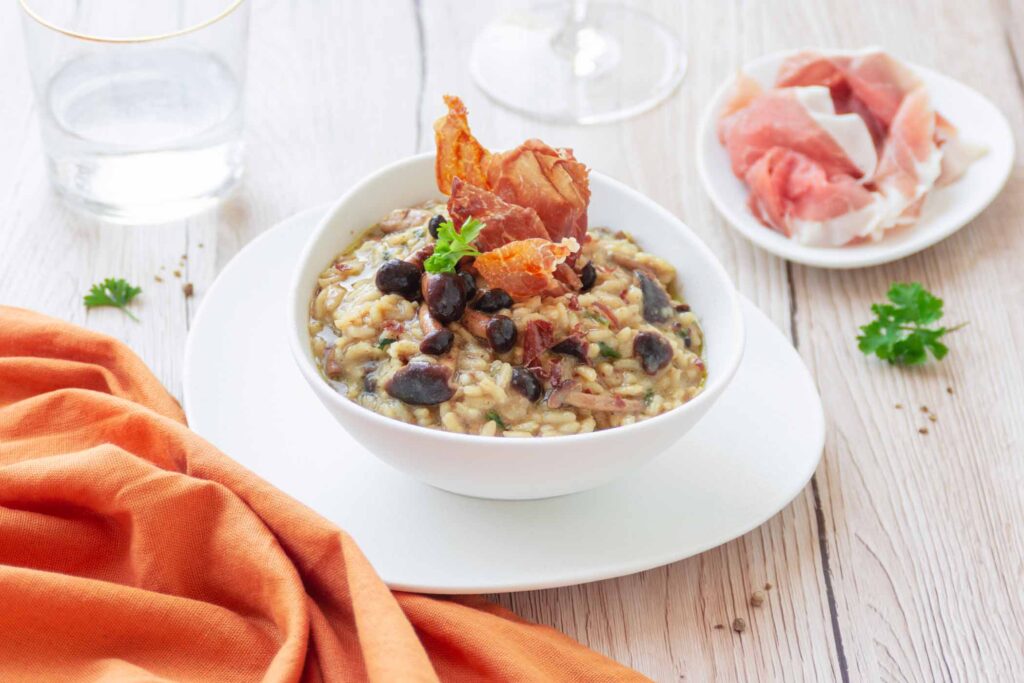 Ingredients
250

g

honey mushrooms

2

cloves

of black garlic

4

thin slices of prosciutto di San Daniele

200

g

Carnaroli rice

1/2

shallot

50

g

butter

1/2

glass of white wine

vegetable broth as required

a small bunch of parsley

grated Parmigiano Reggiano to taste

salt and pepper as required
Instructions
First of all clean the mushrooms from the dirt, remove the root part and cut in half the bigger ones.

Soak them in water with a little baking soda for 10 minutes, then drain them delicately in a colander under running water and pat them dry with a paper towel.

For the risotto: mince the shallot and sauté it in a non-stick pan with ¾ of the butter and a little chopped parsley. As soon as it is golden add the rice, so as to toast it along with the shallot an give it more colour. After a few minutes add the white wine and let it evaporate completely.

Now add the hot vegetable broth, a little at a time, letting it evaporate each time. Keep doing this until the rice is nearly cooked, but still "al dente", for about 20 minutes.

Meanwhile sauté the black garlic in oil in a non-stick pan, crushing the garlic with the back of a spoon until it's cut in small pieces.

Add the honey mushrooms and another small bunch of chopped parsley to the garlic pan, adding a little hot water or broth. This will take at least 15/20 minutes.

Five minutes before the rice is cooked( when it is still al dente), add the sautéed mushrooms with the black garlic (setting aside a a few whole ones for the decoration) and finish cooking.

Turn off the heat, add a knob of butter, a generous sprinkling of grated Parmigiano Reggiano cheese. Stir and let sit for a few minutes.

Meanwhile heat a non-stick griddle pan and cook the prosciutto slices to make them golden and crispy.

Serve the risotto with the mushrooms you set aside previously, the crispy chips of prosciutto di San Daniele, some leaves of parsley and a dash of pepper.