Tempo di Lettura:
3
minuti
A recipe rich in flavors and contrasts to celebrate the arrival of spring and of a vegetable that is one of the symbols of this season: the asparagus.
This baked pasta is a complete and tasty dish you can serve as one-course dish if you add thin strips of prosciutto di San Daniele before serving it, so it keeps its true flavour.
The extra touch? Try adding some smoked mozzarella, broken up in pieces with your hands, to the creaminess of the béchamel sauce and to the Parmigiano Reggiano for the crispy crust. The scent will surprise you.
Baked pasta with asparagus and Prosciutto di San Daniele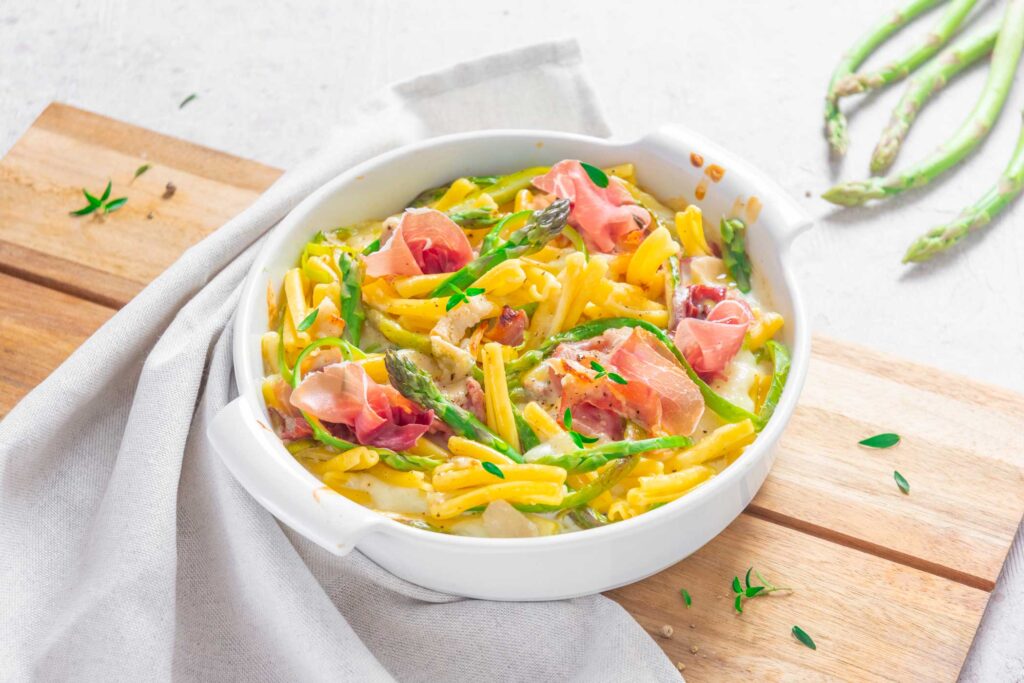 Ingredients
For the pasta
200

g

short pasta

10/12

asparagus spears

½

leek

1

garlic clove

2

tablespoons

of extravirgin olive oil
For the béchamel sauce
25

g

all- purpose flour

40

ml

di olive oil

250

ml

milk

also non-dairy milk

a pinch of grated nutmeg

salt and black pepper as required
for the gratin and to serve
1

smoked mozzarella

50

g

of Parmigiano Reggiano

6

thin slices of prosciutto di San Daniele

salt and black pepper as required

fresh aromatic herbs to taste
Instructions
First of all trim the asparagus and cook them in boiling water in a tall and narrow pot, keeping them upright, with the stalks facing down, in order to cook well the toughest part and keep the tips intact.

After 10 minutes drain them and cut them in half (or in 4 pieces, if the asparagus are big).

In the mean time cook the pasta until al dente in a big pot of slightly salted boiling water, drain it in a colander and rinse well under cold water.

While the pasta cooks, make the béchamel sauce. Cook in a small non-stick pot the olive oil and the flour and continue stirring for a few minutes as the flour cooks to a light golden colour. Slowly whisk in the pre-warmed milk, season with salt, pepper and a pinch of nutmeg, stirring until thickened.

Heat the olive oil in a non-stick pan, sauté in it the crushed garlic clove and the thinly sliced leek for some minutes, add the asparagus and the drained pasta, letting the ingredients flavour over a high heat for 5 minutes. Discard the garlic clove.

Preheat the oven to 200° C and prepare the baked pasta in an oven-proof dish lightly greased with olive oil.

Starting from the base, alternate layers of bechamél sauce, pasta, 4 of the slices of prosciutto torn in pieces by hand , a few pieces of mozzarella and some shaved Parmigiano Reggiano, finishing with more bechamél sauce and a pinch of black pepper.

Bake for 10 – 15 minutes, with the grill function on during the last 5 minutes.

Serve with the two remaining slices of prosciutto di San Daniele cut in thin strips, a drizzle of extravirgin olive oil and the aromatic herbs.