Tempo di Lettura:
2
minuti
Prosciutto di San Daniele is a great source of complete proteins, vitamins and minerals. It is a totally natural Italian food that cannot miss on the table. Find out about the pairings and the recipes to taste excellent dishes with Prosciutto di San Daniele.
Prosciutto di San Daniele and avocado rolls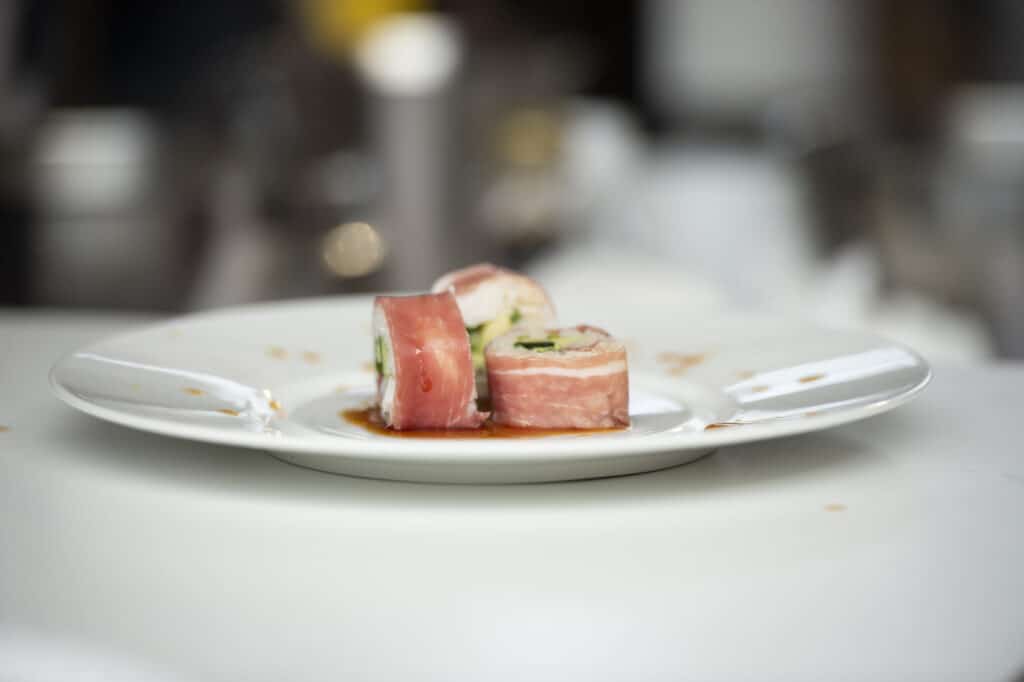 Ingredients
100

g

sushi rice

20

thin slices of San Daniele Dop

500

ml

soy sauce

1

ginger root

1

small fresh horseradish root

500

g

sugar

2

avocados

2

cucumbers

rice vinegar

500

ml

sweet wine
Instructions
Start with the rice: steam the rice, season it with rice vinegar and 150 g sugar, then let cool.

Meanwhile make teriaki sauce: reduce the wine with the remaining sugar, half a ginger root cut in chunks and the horseradish. Whem the sauce has reached a syrupy consistency add the soy sauce and the grated piece of ginger root that is left. Let cool and then filter it.

Afterwards cut the unpeeled cucumber in small sticks. Cut the peeled avocado in the same way.

Line with plastic wrap a sushi mat, neatly arrange the prosciutto slices to cover all the surface, then spread the rice on top. Place in the center the cucumber and avocado sticks. Roll up tightly and let cool in the fridge for at least 30 minutes.

Wet the blade of a very sharp knife and cut the roll in wheels that are about 3 cm thick.

Serve the rolls with the teriaki sauce.

Note:these ingredients give you more sauce than you might need for these rolls, it can be stored in the fridge and used for other preparations.